Question I received yesterday:
Do you know anything about the Inslee administration giving the okay to dormitory housing for all the Yakima farmworkers who are dying of the virus?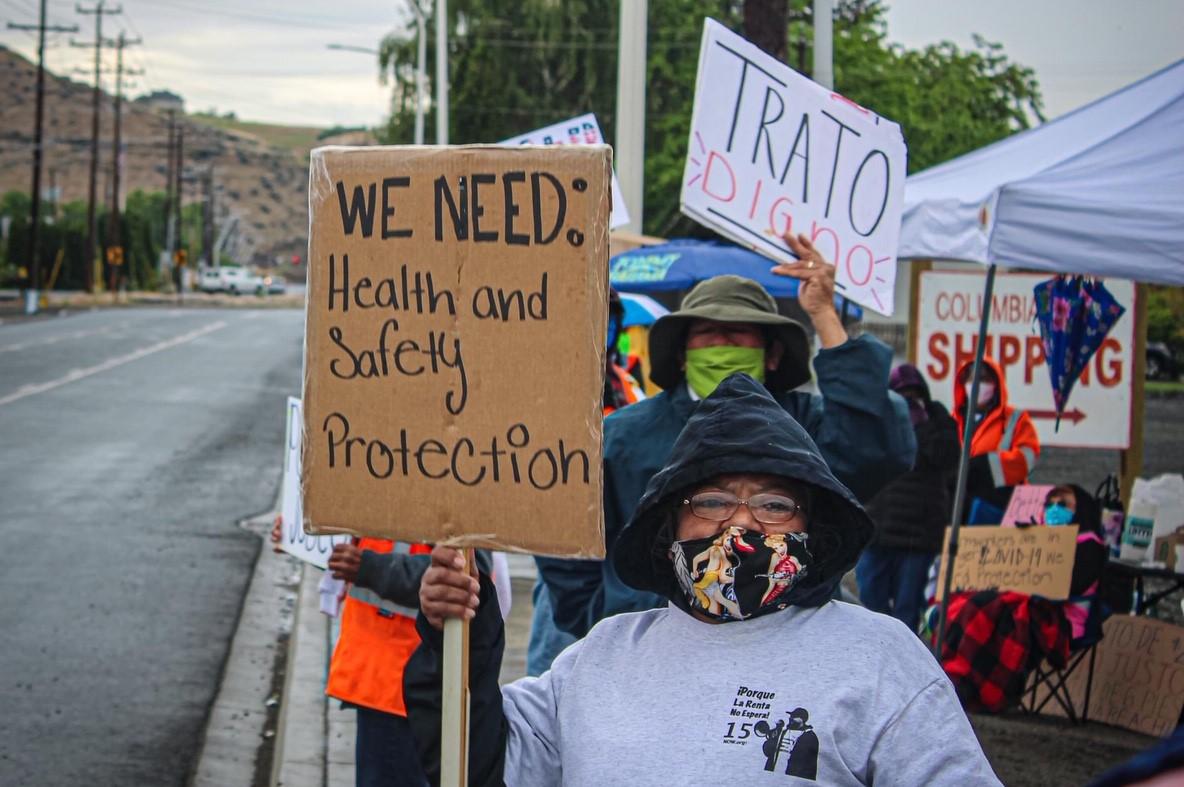 My reply: Yes. Sadly I learned that Washington's agribusiness does not want to protect its migrant workforce. The unions do not want to protect the migrant workers either. The unions gave up their original demand that the top bunks not be used to enable social distancing while sleeping. The fact that the virus can spread while breathing in and out when a mask is absent was ignored.
Meanwhile state and county public health workers are trying to keep the migrant workers from getting infected and spreading infection….
This article in the LA Times...not reported in the Seattle Times may enlighten you:
During last week's call with Washington State's Dept of Commerce, I learned that Yakima County has the highest rate of COVID-19 infections not only in WA State, but among all counties on the West Coast. At that time over 2,600 people were infected with coronavirus in Yakima County, roughly 15% are agriculture and food production workers, according to the Yakima Health District.
Yakima Health officials are battling outbreaks at long-term care facilities and the county has the largest population of essential workers in Washington State. The CDC and OSHA have provided no written guidelines.
Washington State commissioned a work group who made recommendations, including at least 75 square feet for sleeping. Only bottom units of bunk beds can be used unless a housing unit is being occupied by a single family. It is left to each county's public health officials to negotiate with each employer – and it is insane, unsafe and even deadly.
The pandemic is rippling through the region's agricultural industries, sparking labor strikes and I heard a lawsuit, but I have not seen the complaint nor do I know which farm biz was sued.
Striking workers say they want more masks, gloves, disinfectant, plastic dividers between workers on the production line, and a $2 per hour increase in pay. Workers throughout the various company strikes echo those demands.

Workers have also demanded that their employers inform them who exactly tested positive so they can know if they may have been exposed. Company managers say that by law they can't give out private health information of employees.

– Are Apples worth more then our lives
In May over 400 Yakima Valley fruit packing workers have gone on strike, according to Familias Unidas Por La Justicia (FUJ). The farmworker advocacy group, based in Skagit County, is helping workers organize committees, negotiate with employers and seek legal advice. Unclear if anyone from the NLG is participating.
One worker shared what workers need: "That's why we need a plan that gives us security to go to work, work safely, and return home and be okay."
Now all 50 states are reopening – and the American worker has no OSHA guidance. Now, workers fear for their lives. "People are scared. Especially when they're working close together, if they're not being provided with masks or other personal protective equipment, or if there unable to wash their hands," says Shelly Ruzicka, Arise Chicago.
There have been more than 200 walkouts/strikes in the country since March 1st. Most have received little press attention and all States have relaxed Stay-at-Home Orders.
Finally on May 18th, the AFL-CIO filed a lawsuit to ask a federal court to compel the Occupational Safety and Health Administration (OSHA) to issue an emergency temporary standard to protect workers from the novel coronavirus. Sadly this is too late for many hundreds if not thousands of deceased essential workers and their families who became infected with COVID-19. The case is In re: American Federation of Labor and Congress of Industrial Organizations, D.C. Cir., No. 19-1158, 5/18/20.
Follow the money. Seems immigrants and refugees, the poor and the middle class are expendable. All that matters is the 1% and wealthy corporations.
We need a grassroots campaign to get America to protect workers' health and our food supply!