There are fewer Public Hospitals. Private Hospitals care about the bottom line and not about the well-being of communities

.

Many of our front line hospitals that were once publicly owned are now private corporations. What is the significance of this? Public hospitals work in conjunction with the local public health experts/officials and can respond while protecting the best interests of the community and the health care providers. Public hospitals take leadership roles in improving the health and well-being of the residents in their communities —partnering with other governmental and nongovernmental entities — to identify and work together on common health- and safety-related issues.

In private hospitals, boards of directors and shareholders drive decision-making based on return on investment. Investment firms have created consolidated hospital empires across America, leading to closures, higher prices, and can lead to terrible outcomes for patients, medical staff, and communities. One such closure in Seattle was announced on April 3rd in the middle of an escalating COVID-19 pandemic. Seattle-based Virginia Mason Medical Center said it had seen a 30% decline in revenue since the COVID-19 pandemic started AND Washington Governor Inslee ordered hospitals to suspend elective procedures. As a result, the system announced it was furloughing an undisclosed number of employees, according to local station King 5 News. Most of the affected employees are in nonclinical roles.

Virginia Mason is one of many U.S. hospitals and health systems that have also suspended elective procedures to save capacity, supplies and staff to treat COVID-19 patients. As a result of suspending these non-emergent procedures, several systems have lost or expect to lose a large chunk of their annual revenue, forcing them to make cost reduction a top priority and have furloughed staff in an effort to remain financially stable amid the COVID-19 pandemic.
"We rely substantially on outpatient revenue to ensure our financial viability," wrote medical center executives in an internal memo to Virginia Mason leaders obtained by King 5 News. "This is an unprecedented time and it calls for drastic measures."

Becker's Hospital CFO Report
Today, in many metropolitan communities in the United States, public hospitals maintain the health care safety net. Urban public hospitals are those owned by local governments or special authorities such as cities, counties, or special districts. In this definition, public hospitals have a governmental mandate to provide health care for the indigent and uninsured poor in their communities. Contrast this to private hospitals where: Dr. Barbara McAneny, former president of the American Medical Association said "We have to decide whether the goal of a healthcare system is to increase profits."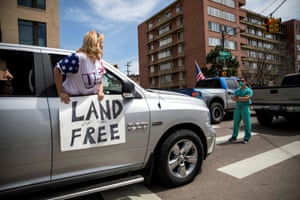 and nurses

.

On March 27th, Dr. Ming Lin, a 17 year emergency room physician who publicly decried what he called a lack of protective measures against the novel coronavirus at his workplace, was fired by PeaceHealth St. Joseph Medical Center in Bellingham for sounding the alarm of lack of PPE for doctors and nurses. Here is the statement of the Washington State Nurses Association about the firing. An excerpt reads:
.
I am wondering whether Washington Gov Inslee should have kept the 400 ventilators and most importantly the federal hospital that was located at Century Link Field. How do we reconcile this with what the governor and healthcare providers at Harborview Medical Center said?
"Don't let this decision give you the impression that we are out of the woods. We have to keep our guard up and continue to stay home unless conducting essential activities to keep everyone healthy," Inslee said in a statement. "We requested this resource before our physical distancing strategies were fully implemented and we had considerable concerns that our hospitals would be overloaded."

Governor Inslee announcing Coronavirus Field Hospital will be Disassembled
As hospitals battle the coronavirus, they're baffled as the Trump administration seizes hard-to-stock medical supplies and healthcare workers do not have the PPE that they need. The Federal Emergency Management Agency is not publicly reporting the acquisitions, despite the outlay of millions of dollars of taxpayer money, nor has the administration detailed how it decides which supplies to seize and where to reroute them. Hence it may be difficult for the governor to obtain such supplies if the state experiences another coronavirus outbreak.
.
We now know from NYC doctors that COVID-19 it is a systemic disease, affecting the lungs, blood, heart and kidneys. Ventilators alone are not enough. Dialysis is often needed. But for some reason America's federal political leaders are not listening to other countries experience with this voracious disease and politicians are discussing reopening businesses. Early evidence indicates some COVID-19 survivors may find their bodies changed long-term by the disease.
.
Testing and data are critical to manage the spread of a pandemic. Washington's data reporting received a "C" grade from The COVID Tracking Project. Why? Because the state has not been regularly reporting their total number of people tested, did not report new negative test results between 3/31/2020 and 4/15/2020 and went through a data cleaning on 4/18 removed 190 confirmed cases that were discovered to be out of state residents.
Last week the doctors and eventually the public health officials admitted we have no test kits here, again. The reason why is because we have no state income tax and there is no budget to buy test kits, so we are at the mercy of the federal government for tests. According to a King County Council member, FEMA is sending 20,000 kits to Washington State for 7.6 million people.
Grateful that NYC was able to purchase enough test kits and identified and traced that their COVID-19 strain came from Europe and the medical community is learning from the UK and not Washington State. Washington has not done enough per capita testing or tracing. Widespread testing is key to contain the spread of this pandemic.
In the early stages of the COVID-19 pandemic, some wealthy countries pursued a strategy of widespread testing that allowed them to successfully pursue a containment strategy. Others, including the US, have been much, much slower to implement mass testing. As has been extensively documented elsewhere, the US testing effort started very late, rolled out slowly and unevenly, and has yet to scale widely in most parts of the country.

In addition to this failure to test early or scale up quickly, central authorities have elected not to publish complete testing data. The CDC publishes a case count, which tracks identified cases of COVID-19 confirmed by testing, though it significantly lags behind other sources of this data, like the Johns Hopkins University tracker, which has been the gold standard for US case counts throughout the outbreak. And although the CDC does offer a national-level account of "specimens tested," this data is incomplete and lagging, and it uses a different unit (specimens tested) for total tests than for positive results (which are counted in people). This makes it impossible to accurately match testing totals with positive tests to infer a complete picture of COVID-19 testing, even at the national level.

The COVID Tracking Project (emphasis added)
.
Two Sundays ago the Washington State Department of Health quit reporting COVID-19 case breakdown on its website. Without explanation. Sadly in Washington State and King County, public health officials did not even collect or track the race of individuals tested, infected and deceased, that is until other large metropolitan areas and states demonstrated the disproportionate impact of COVID-19 on black and brown people. According to the Economic Policy Institute, only 20% of black workers reported being eligible to work from home, compared with about 30% of their white counterparts. Recall the post about not all people can work from home.
Blessed to engage with the interfaith communities in King County who are modeling physical distancing – through Easter, Passover and now in Ramadan – and using technology to provide pastoral care and religious services. Faith leaders continue to challenge the government to protect the most vulnerable in our society and to move people experiencing homelessness inside.
To prevent the coronavirus spread at shelters, on April 2nd, 400 people experiencing homelessness in King County were moved into hotels. With 21,000+ people experiencing homelessness in Washington State, much more needs to be done to provide housing to people experiencing homelessness.
In addition to the homeless, there are inmates in jails and prisons in congregant settings who cannot physically distance. I was appalled at how much begging and protesting that providers, advocates and family members had to do to get Governor Inslee's attention. It was not until a lawsuit was filed and a judge ordered that the state had to create a plan to protect inmates that the governor acted.
Sunday the protests against the governor's Stay at Home, Stay Healthy order began and as several people said, these protests put us all in danger.
Remember the University of Washington study that outlined the danger of "visiting just one friend"? As a refresher, the basic conclusion it drew was that if single person in a household visits one friend, it runs the risk of spreading the virus exponentially through local communities.

Break that out into the 2,500 people from across the state congregating together while standing mere inches apart, and we have a scenario that actively threatens the hard-fought progress Washingtonians who actually have stayed home have fought for since March.

My Northwest: Bowman: Weekend protest in Olympia put us all in danger
.
With the sun shining here and temperatures rising and continuing over a holiday weekend, I am afraid. I am afraid for the resurgence to come in Greater Seattle with all the people outside not practicing physical distancing…in America's 5th whitest city. Are people ignoring the warnings because they learned that COVID-19 is not as fatal for white people and disproportionately kills black and brown people and elders with underlying medical conditions, and this region honors younger tech workers?
Perhaps it is because Washington State was once the US epicenter of COVID-19. It has since been surpassed by New York and several other states and Washingtonians have seen significantly less death.
The traffic on the streets and the photos of people at parks on the news are indications of the number of people not staying inside. There is already so much evidence of the wealth and health inequities in Washington State and in King County – where the two richest men in the world reside – Bill Gates and Jeff Bezos – and pay no state income tax. COVID-19 has shone more light on this ugly disparity.
I guess in the state where the rights of the rugged individual and big money govern, many more poor front-line workers might die before the public will respect this coronavirus' virulence and deadliness, stay inside and accept we are a community. This makes me very sad. It does not have to be this way.
Grateful to be reconnecting with New Yorkers who are direct and comfortable debating challenges in the COVID-19 Working Group. Governor Coumo is by no means perfect, but he provides information and explains the situation clearly and engages the community and counters federal misinformation.
Stay at home. Stay healthy. Save lives. Ensure data drives decisions. Are positive cases declining? For 14 days? Are COVID-19 deaths declining? For 14 days? Practice social/physical distancing. Open the economic valve SLOWLY. It is not an on off switch. Test. Trace. Test. Trace. Test. Trace. Test. Trace. Test. Trace. Quarantine for 14 days if sick or exposed to COVID-19. This is not the flu. This is a pandemic. People matter!
Lets have a plan!