I am likely one of the few if not the sole gubernatorial appointee who served as a state environmental agency head, helped with recovery in NYC after 9/11 and then occupied Zuccotti Park in NYC during Occupy Wall Street, OWS. Educated as a scientist and an attorney, I have worked 20+ years in environmental protection, policy, compliance and enforcement in utilities, large corporations, non-profits and state government. With all that experience the one thing that I know can work is grassroots organizing for Mutual Aid.
I first learned about mutual aid from my father a pharmacist and small business owner. He taught me my love of science, medicine, law and politics. He taught me to challenge authority, question the veracity of information and to investigate and ultimately to discern next steps. His actions modeled the importance of supporting your community, each individual's personal responsibility to participate in democracy and to care for one another.
Growing up I witnessed him deliver prescriptions to people's homes and allow people to purchase their prescriptions and toiletries on credit, and if they could not pay, he forgave the debts. In turn needs that he had at a drug store were met by other community members. Needless to say my dad's pharmacies in upstate New York were overrun by big businesses and my folks declared bankruptcy the year I graduated from college.
When I hospiced my dad I witnessed the failure of the Veterans Administration to care for a man who served nearly eight years as an officer in the Navy on a ship in South Korea. After his death, as Occupy Wall Street surfaced in the US, I became an occupier.
What is today happening is the US in response to COVID-19:
After OWS, other important movements have arisen – Black Lives Matter, Me Too, Sunrise, Indivisible and Extinction Rebellion, to name a few. All shine a light on the systemic discrimination and inequality in our existing oppressive systems. We ordinary people, the 99%, have to work together and care for one another to transition through the public health crisis that is upon us. This is our new normal.
Our U.S. government is not leading us.
We are receiving mixed messages from the president and inconsistencies between oral guidance and written orders from the Center for Disease Control (CDC) and Centers for Medicaid and Medicare (CMS) the federal public health agencies, who are supposed to lead us on public health.
In the meantime WA, CA and NY governors and Seattle, San Francisco and New York mayors in the US COVID-19 hot spots are carrying out INCONSISTENT Community Mitigation. In addition to being inconsistent, the mitigation in WA, CA and NY is not big enough and it is not fast enough to flatten the curve. As I write this the media reported the 50th Washingtonian has died of COVID-19. Washington State remains the epicenter of this pandemic on US soil, followed closely by California and New York.
So what does everyday people do? We organize and provide Mutual Aid.
The coronavirus outbreak is highlighting what our communities have always known – our country is only as strong as those most vulnerable among us. We need our leaders to speak truth, financially pay for the testing and treatment of every infected individual and emotionally and financially support all families in this time of need. While we await federal legislative action, in a matter of a week's time, many mutual aid resources have sprung up in the U.S. They are listed below, but what is mutual aid?
Mutual aid is different than charity and social services which are part of the non-profit industrial complex . Mutual aid operates from the understanding that it is the system, not the people suffering under it, that creates poverty, crisis, and vulnerability. Mutual aid empowers communities to meet their own needs, premised on solidarity not on charity. It is community service. We know our local communities better than anyone else.
While temporary charity is no match for permanent institutional structures, and mutual aid was never meant to shoulder the burden of the failed state, it is what we have now in the US against COVID-19. It may pave the path for the Administration and Congressional leaders to provide paid sick leave, short term unemployment, rent eviction and mortgage foreclosure protection and medical treatment for all.
Mutual aid is people giving each other needed material support while trying to resist the control dynamics, hierarchies and system-affirming, oppressive arrangements of charity and social services. Mutual aid projects are an expression of political participation in which people take responsibility for caring for one another AND changing political conditions, not just through protests, or street marches or writing letters to their representatives in government, but by actually building new social relationships that are more survivable. Examples of recent mutual aid movements that we might learn from include Occupy Sandy and Food not Bombs.
We have a list of COVID-19 Mutual Aid efforts emerging below. Connect with those in your city and state. People over age 60 AND anyone with a pre-existing condition must remain in their homes. Ask who needs help and offer what you can do or what resources you can offer to the most vulnerable.
We are in this together and we need one another right now. It is hard for most of us to ask for help. Please help those that have the courage to ask. And call and ask your neighbors and family what they might need. Post it in one of these wonderful grassroots resources!
We are a community and we can help each other, vision and create the society we want.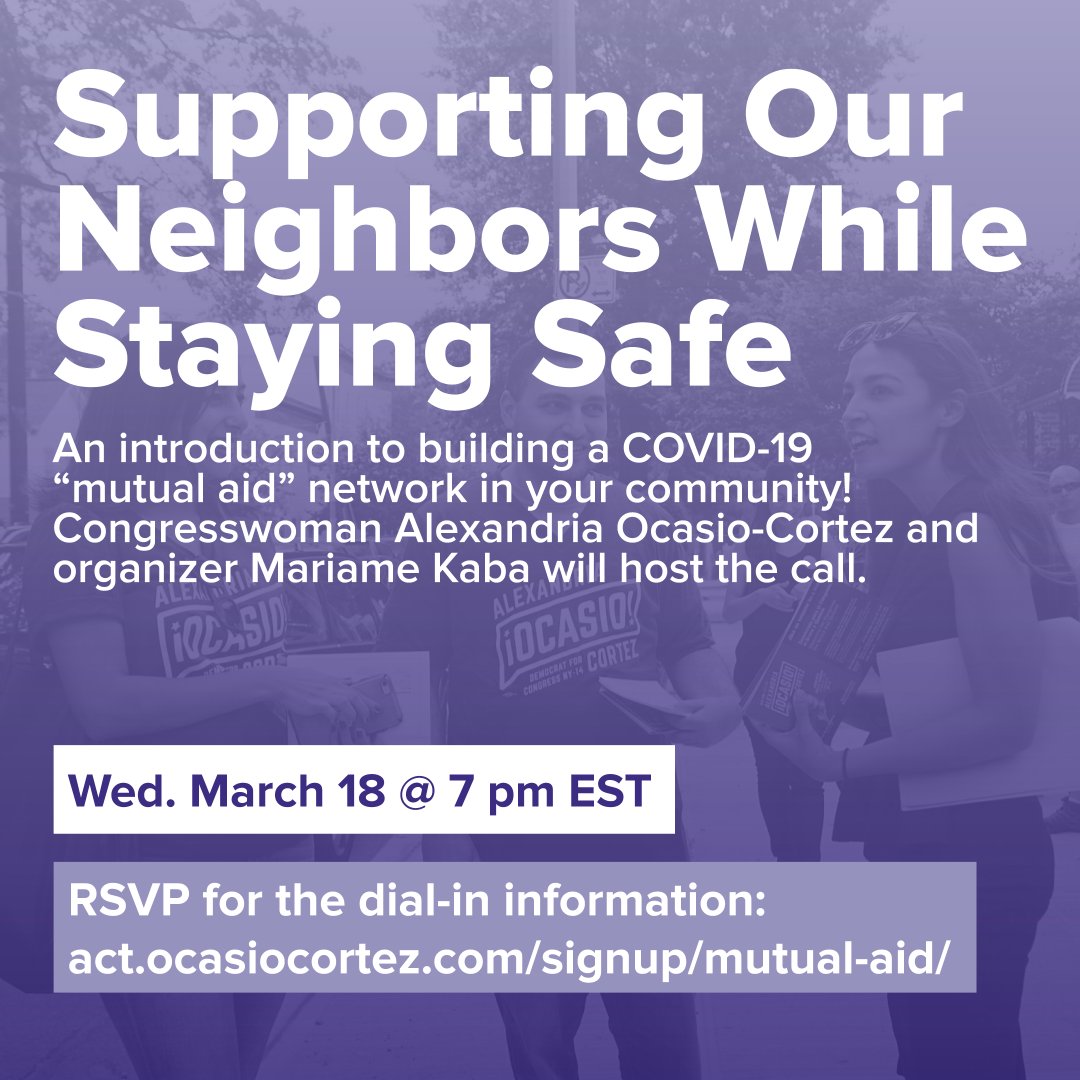 https://act.ocasiocortez.com/signup/mutual-aid
Below is a sampling. Take what works for you. Replicate it. Modify it to fit your community's needs. Share what you create/use. Share what you learn that works and what doesn't work. Help one another! Let's assist the most vulnerable in this crisis and hospice the systems that are literally killing us.
LIBRARIES:
TEMPLATES:
ACTION In COMMUNITIES:
DEMANDS: