Sadly we live in a time where many if not most people no longer trust the US government. And over the last 3 years we have seen so many lies and so much blaming at a time when we need real federal leadership, there is none.
The United States is in a public health crisis. The vacuum is being filled by cities and states…but that is not enough. There seems to be NO public health rationale for the different actions governors are taking. Further, they seem to be hesitant to hurt their residents financially.
On Wednesday March 11th, Washington State Governor Inslee forbade gatherings of more than 250 people in three counties. What is the basis of the 250? Why only 3 of 39 counties? At the same press conference the Health Officer of Greater Seattle-King County, the public health expert in the US epicenter of COVID-19, articulated mandatory requirements for group gatherings <250 people. Some have said this applies to groups of 10 people or or more. Others have said this applies to groups of 50 people or less. This order applies to only one of 39 counties. This makes the message unclear.
For anyone who has visited or worked in Western Washington if you travel to the capital in Olympia from Seattle you travel through several other counties.
How do these actions in 3 counties reconcile with the fact that the Washington Department of Health reports on its website, 457 COVID-19 cases have been confirmed in 13 counties in Washington State as of the evening of Thursday March 12th?
Yet a week earlier, King County Public Health was the first in the nation to announce the need for excellent personal hygiene and social distancing. The King County website words, "We understand these actions will have a tremendous impact on all members of our community. These efforts are meant to slow the spread of novel coronavirus and reduce the number of people infected." Sadly these actions were voluntary and I wrote about the need to make them mandatory in an earlier post, here.
Yesterday the WHO declared COVID-19 a global pandemic because of exponential community spread of COVID-19 and inaction by governments. I understand that WHO's decision was delayed for days as WHO hoped the US would learn from China, South Korea, Taiwan and Italy.
We are deeply concerned both by the alarming levels of spread and severity, and by the alarming levels of inaction. Pandemic is not a word to use lightly or carelessly. It is a word that, if misused, can cause unreasonable fear, or unjustified acceptance that the fight is over, leading to unnecessary suffering and death.

All countries must strike a fine balance between protecting health, minimizing economic and social disruption, and respecting human rights. WHO's mandate is public health. But we're working with many partners across all sectors to mitigate the social and economic consequences of this pandemic.

WHO Director General Press Conference and Release, March 11, 2020
It has been widely documented that the US is 11.5 days behind Italy. Italy started with a limited quarantine area, like New York has recently done with New Rochelle. Then it expanded to northern Italy and then to the entire country. Today Italy's Case Fatality Rate is 8%.
Italy's experience suggests that the containment area around New Rochelle may not be large enough to protect 14 million New York City residents.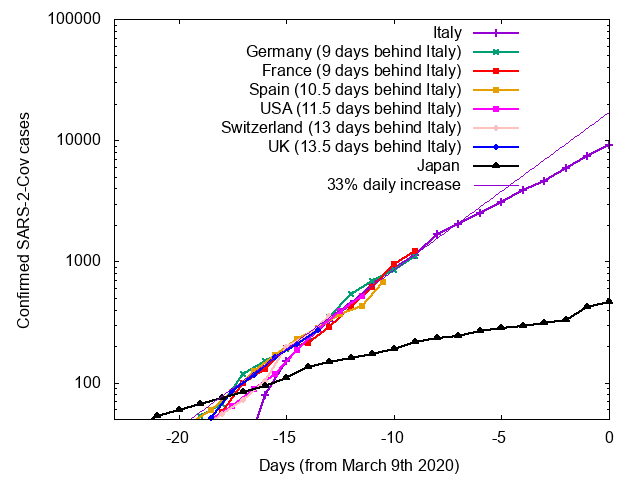 Thankfully WHO acted. The challenge for many countries who are now dealing with large clusters or community transmission is not whether they can do the same – it's whether they will.
We are grateful for the measures being taken in Iran, Italy and the Republic of Korea to slow the virus and control their epidemics. WHO acknowledged that these measures are taking a heavy toll on societies and economies, just as they did in China. How about the US?
The US is struggling with a lack of capacity.
The US is struggling with a lack of resources.
The US is struggling with a lack of resolve.
The US is struggling with leadership.
The world is looking for a leader… In 2018, the Trump Administration fired the White House's National Security Council Directorate for Global Health Security and Biodefense. The White House does not seem to see the critical need for test kits and testing, limiting large gatherings throughout the US, practicing social distancing and excellent personal hygiene to reduce community spread and flatten the curve in accordance with well-established public health guidelines. Instead it seems to be concerned about corporations' profits.
What is the plan for states that are not taking action?
What is the plan to get governors to hold all counties in their jurisdiction to the same standards?
Some states are closing schools state-wide. Other cities, including San Fransisco, Houston and Seattle have closed schools.
What is the plan when schools close and the students no longer have access to breakfast and lunch?
What is the plan to provide childcare for our healthcare workers so that they can report to work to care for the sick and know their children are safe?
I wrote earlier about the need for paid sick leave and free tests…which service workers and our gig economy need and the wealthy have. Is our society cracking under the auspices of public health? It needs to break open.
All people need free access to tests and healthcare if they become infected with COVID-19.
We need laws passed to prevent evictions and foreclosures NOW.
We are in the middle of a global pandemic. People over age 60 are vulnerable. People with pre-existing conditions are vulnerable. We do not have enough tests to test them. Public health officials need to trace exposures to stop the spread. Anyone of us could be carrying the virus up to five days before we exhibit symptoms. We do not have enough ICU beds in our hospitals.
COVID-19 is invisible and does not discriminate. Practice excellent personal hygiene and social distancing to protect yourself, your family, co-workers and your neighbors:
We are all in this together. Perhaps my fellow Americans can learn from a doctor who wrote an anonymous opinion piece published in Newsweek: Young and Unafraid of the Coronavirus Pandemic? Good for You. Now Stop Killing People | Opinion.

And if your government is hesitating, these restrictions are up to you. Stay put. Do not travel. Cancel that family reunion, the promotion party and the big night out. This really sucks, but these are special times. Don't take risks. Do not go to places where you are more than 20 people in the same room. It's not safe and it's not worth it.
But why the urgency, if 80% of the people survive unaffected?
But when we get to this stage of a pandemic, it's really important not to spread the bug. The only thing that helps is social restriction. Ideally, the government should issue that instruction and provide a financial fallback—compensate business owners, ease the financial load on everyone as much as possible and reduce the incentive of risking your life or the lives of others just to make ends meet. But if your government or company is slow on the uptake, don't be that person. Take responsibility. For all but essential movement, restrict yourself.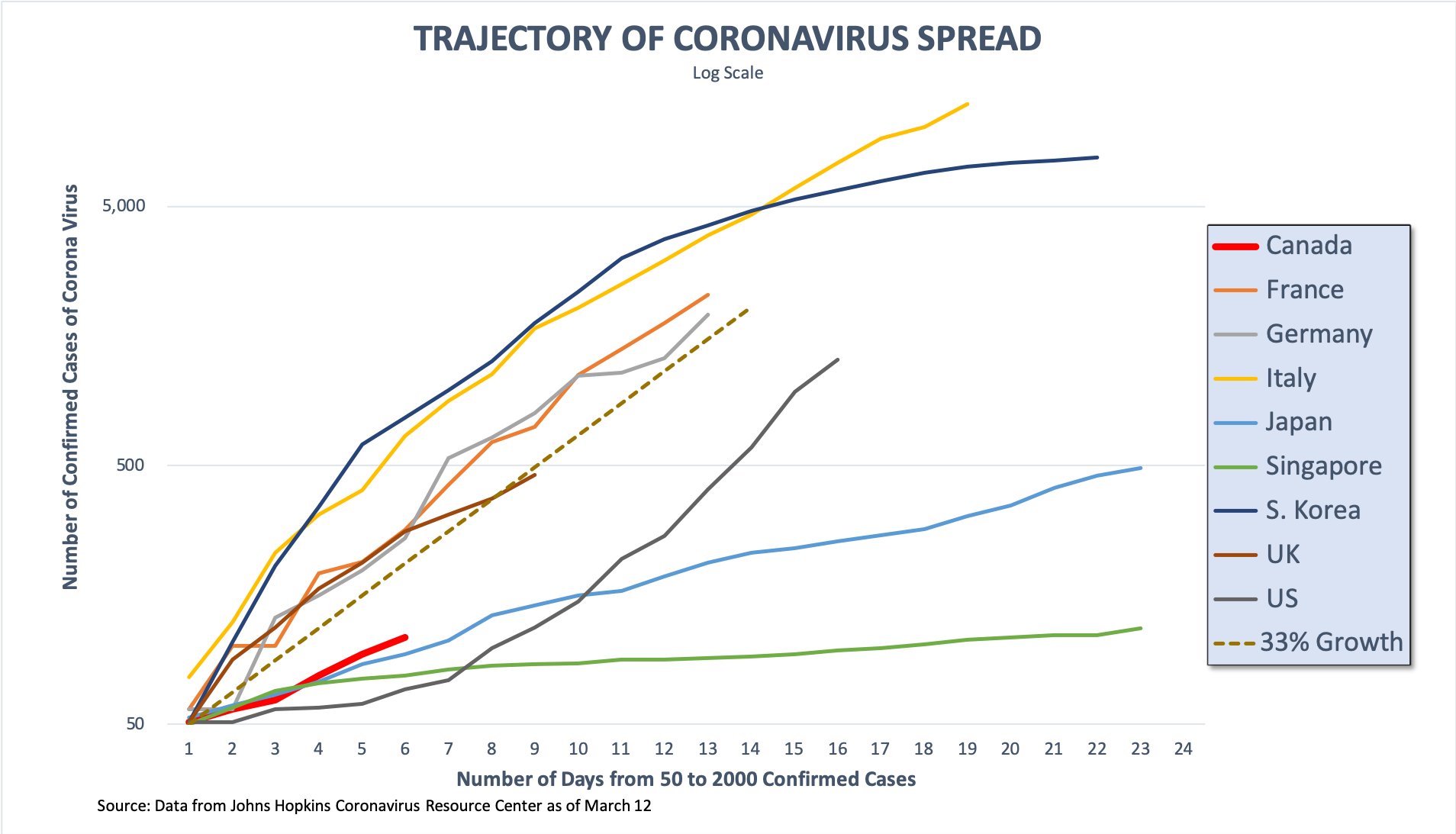 I understand the importance of social distancing. I wished King County Public Health had made its historic announcement mandatory rather than voluntary. In the week that passed, the community spread of COVID-19 in Greater Seattle rose exponentially. Today the Seattle Public library announced its libraries will close tomorrow, March 13th until April 13th. Why aren't all libraries in all 39 counties closing? What is the public health rationale for a one month closure?
What is the plan for our unhoused neighbors when the libraries close?
Where do people who do not have a computer get access to the internet when the libraries close in Seattle?
Collectively we need to do everything in our power to limit the horrific suffering and death that COVID-19 is causing. We do not want American doctors to have to ration medical supplies, choose who will live and who will die because of a lack of medical equipment. Yet we are headed in that direction unless we mitigate the spread, now.
The White House MUST establish a command center, as Taiwan did.
US residents need to demand consistent Community Mitigation in the entire US, NOW.