A. Insist to your public officials that they mandate Community Mitigation NOW.
COVID-19 has now been moved from the Greater Seattle epicenter to the rest of the United States. The governors of five states -Washington, California, Florida, Maryland and New York have declared states of emergencies. Hence the numbers are rapidly increasing…233 cases of Friday night to 474 cases on Sunday morning. The community spread is increasing exponentially. This is a live map from John Hopkins University & the numbers will keep going up.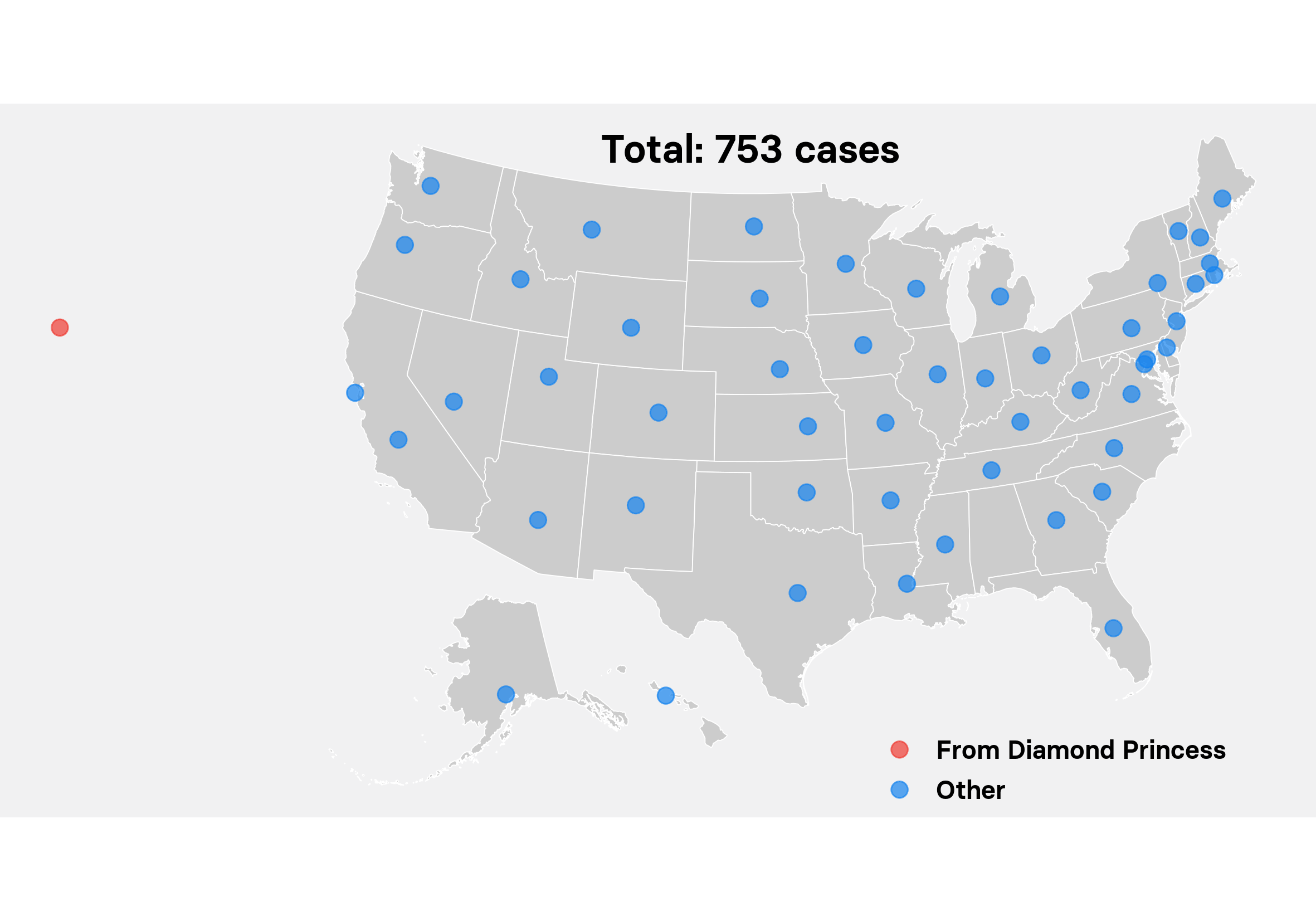 We have to follow public health advice AND mandate community mitigation so that we begin to slow the spread of COVID-19 down in the US NOW.
Community Mitigation is also known as institutional closures and event cancellations. WHO is discussing with impacted countries when to pull the trigger on declaring this a pandemic.
For gatherings of over 10 people you should keep 6 feet of distance away. For gatherings of over 50 they need to be cancelled. – This was added on Day 5 in Seattle – the first in the US but it is voluntary and now needs to be mandated.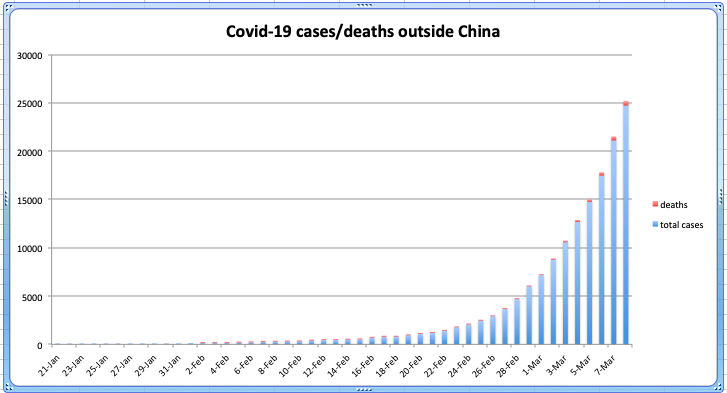 The number of COVID-19 coronavirus cases worldwide reached over 98,600 on Friday. Germany's health minister called the outbreak, which has spread to at least 84 countries, a "global pandemic."

Fortune, March 6, 2020 1:22 AM EST. By Naomi Xu Elegant,
B. Listen more to the experts – your public health officials. Listen less to politicians.
What is Public Health anyways? Public health is the science of protecting and improving the health of people and their communities and there are five disciplines within it:
Social & Behavioral science/health education
Biostatistics
Environmental health
Epidemiology
Health services administration, policy and management
Public health officials are trained in detecting, preventing and responding to infectious diseases. They try to prevent problems from happening or recurring through implementing educational programs, recommending policies, administering services and conducting research.
Trust them. Follow their advice.
Sign up for email alerts from your county and state public health departments.
In the US, public health is delegated to the states and county governments.
In Greater Seattle we have several good resources. I encourage you to check them out and consider subscribing to the alerts with your email address:
C. Ask Questions. Avoid spreading misinformation. Share accurate information.
At home, read and discuss the public health information with your family members and/or roommates. Here is great information.
Public Health recommends that people at higher risk of severe illness should stay home and away from large groups of people as much as possible, including public places with lots of people and large gatherings where there will be close contact with others. This includes concert venues, conventions, sporting events, and crowded social gatherings
People at higher risk include people:
Over 60 years of age
With underlying health conditions including include heart disease, lung disease, or diabetes
With weakened immune systems
Who are pregnant
At work, ask your employer:
if you can work from home,
if you must report to work ask if they are following the public health department's guidelines,
ask what steps they are taking to ensure employees are not exposed to COVID-19
tell them you want to know if someone calls in sick with symptoms, and
ask what steps your employer taking to make sure that the workplace is routinely and safely cleaned to kill the coronavirus.
D. Know the symptoms of COVID-19 are different than the flu:
E. Practice Social Distancing and Excellent Personal Hygiene
I articulated the 3 phases of responding to an outbreak in my first post.
This is drawing from the Center for Disease Control and Prevention – Community Mitigation Guidelines to Prevent Pandemic Influenza
Phase 1: Excellent Hygiene & Social Distancing
Social distancing is keeping 6 feet away from other humans, no touching, no handshakes AND good personal hygiene practices.
Excellent hygiene practices include:
Wash your hands often with soap and water for at least 20 seconds. If soap and water are not available use alcohol-based hand sanitizer, with at least 60% alcohol.
Avoid touching your eyes, nose and mouth with unwashed hands.
Avoid close contact with people who are sick.
Stay home when you are sick.
If you are sick, stay home and call your state or county COVID-19 Hotline.
Let your fingers do the walking: Call your medical provider

before

going to the clinic. Only go to an emergency room when you are directed to go.
Cover your coughs and sneezes. If you don't have a tissue, cough into your upper sleeve, not your hands. Wash your hands after coughing and sneezing.
Clean and disinfect frequently touched objects and surfaces with bleach.
Wear disposable gloves when you fill your gas tank.