Situation in U.S.
Imported cases of COVID-19 in travelers have been detected in the U.S.

Person-to-person spread of COVID-19 was first reported among close contacts of returned travelers from Wuhan.

During the week of February 23, CDC reported community spread of the virus that causes COVID-19 in California (in two places), Oregon and Washington. Community spread in Washington resulted in the first death in the United States from COVID-19, as well as the first reported case of COVID-19 in a health care worker, and the first potential outbreak in a long-term care facility.

CDC website accessed March 6, 2020
On January 21, 2020, the Centers for Disease Control and Prevention, CDC, and Washington State Department of Health, DoH, announced the first case of 2019 Novel Coronavirus (COVID-19) in the United States in Washington State.
No other cases of COVID-19 were reported by authorities until 4-5 weeks later.
On March 3, officials announced that the virus had killed two people a week ago, suggesting that the illness had spread in the Seattle area days earlier than was previously known. Expanded testing in recent days has identified dozens of infections.
As of March 5th:
The public health threat posed by COVID-19 is very high. Testing and interviewing must be done to document and follow the spread of the virus:
The risk posed by a virus outbreak depends on factors including how well it spreads between people, the severity of the illness it causes, and the medical or other measures we have to control the impact of the virus (for example, vaccine or treatment medications). The potential public health threat posed by COVID-19 is very high, both in the United States and around the world.

Washington State Department of Health website accessed March 6, 2020
Here is how testing for a new emerging disease is supposed to work:
If a new disease emerges, CDC normally "gets the ball rolling" with diagnostics because it has the expertise and the biosafety laboratories to handle dangerous novel pathogens, says Borio, who now works for In-Q-Tel, a not-for-profit venture capital firm. Typically, there are few confirmed viral samples from patients at the outset, which researchers need to validate their tests, and CDC has the capability to grow the virus for this critical quality assurance step. Once the agency has a working test, that goes out to state labs. Then, in a third phase, commercial labs take over and either produce their own tests or scale-up the CDC one. "I would have hoped to see that third phase by now," Borio says.

AAAS Science Magazine, By Jon Cohen, Feb. 28, 2020 quoting Luciana Borio, who held former leadership roles responding to emerging threats at the National Security Council and FDA
Here is how the testing is actually working:
1. Initially the CDC maintained tight control on test production. CDC finally started to send kits to state and local health labs on February 5th.
2. On February 12th , it was revealed that some of the early tests CDC sent to state health departments were defective.
3. The CDC kept equally tight restrictions on who could be tested. This created a lag on who could be tested.
Previous guidelines required a patient to have symptoms of respiratory illness and a clear risk factor for exposure, like recent travel to China or a number of other affected countries, contact with a known coronavirus patient, or hospitalization with a severe and unexplained respiratory illness.
The Centers for Disease Control and Prevention on Wednesday, March 5 broadened the guidelines for coronavirus testing, allowing doctors to order a test for any patients who have symptoms like fever, cough or difficulty breathing.

New York Times, March 5, 2020

Only time will tell if there are enough tests available for sick people to be tested.
Here is where we are in the US and in Greater Seattle, the US epicenter:
As of March 6th – overnight number of confirmed cases and deaths increased:
228 people in the US have tested positive for COVID-19 in 19 states. Yet ONLY about 800 people have been tested in the entire US (due to lack of test kits).
In the US, overnight the number of confirmed cases rose from 157 to 228.
14 people have died in the US, most in Washington State.
WHO warns governments 'this is not a drill' as coronavirus infections near 100,000 worldwide
Current estimates in King County are that around 1,600 of us are infected, spreading the disease without knowing it…over the last 4-5 weeks, but we have not been tested, so we do not know who is infected. We anticipate this will greatly increase the number of patients who qualify, and once they are tested this will increase the number of people quarantined at home and hospitalized.
Vice President Pence visited Washington State yesterday. His Message in WA: We will send more tests. His message upon his return to DC: there are not enough test kits to meet the demand!
As I watch CNN tonight, Dr. Anthony Fauci, a top infectious doctor, say millions of tests are needed!
We need more tests kits now, especially on the west coast. In addition to the Seattle epicenter, remember the cruise ship off the California coast?
Update Here is a chart of the tests per-capita.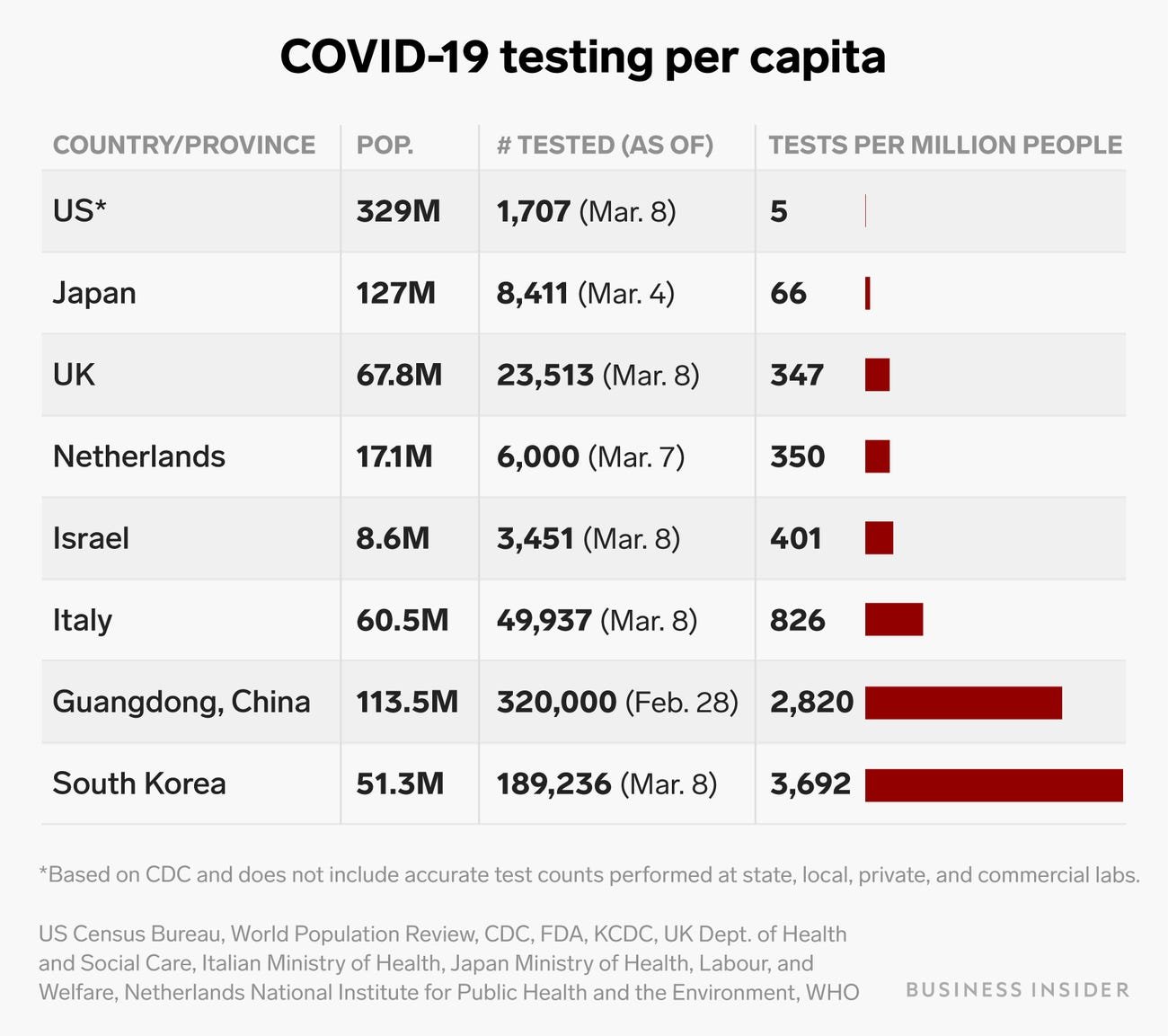 In the meantime, how are we going to slow the increasingly rapid community spread of COVID-19 in Seattle? in California? in New York?
COVID-19 is a serious virus with a high mortality rate.
What is the plan?
Maybe we need to re-look at Social Distancing and begin mandatory Community Mitigation NOW.